10/12/2017
Inspiration for a Non-Basic Fall Tablescape Design
We are so ready to dive into the fall holiday season we're taking a non-basic approach to creating a fall tablescape design. Decorating for gatherings is where we love to flex our creativity and create a space for our friends and family that feels special. When we think about transitioning into a fall aesethic, we try our very best to swerve away from both the trendy and the traditional clichés. Surely there can be a middle ground, communicating cozy palettes without overloading the space with loads of pumpkins, right? If you're like us and want to try something a little different, you've come to the right roundup!
Get Inspired
First, a little inspiration. We were fixated on a checkered napkin that felt homey and "fall"  but wanted to find a way to bring it up to date with modern touches. We focused on mixing stark black and white patterns to bring a hint of edge into the mix for our fall tablescape design inspiration. Contrary to popular belief, there are ways to communicate an autumnal tablescape without the use of pumpkins: enter pampas grass. We loved the idea of taking harvest elements and seasonal goods like figs, pears, pampas grass, and wild brush and deconstructing them on the table. We blended moody with refined, which you'll see in the prints and place setting choices. Here's the vibe we're feeling right now:
Pull It Together
We gathered some pieces that will perfectly communicate this vision for your next tablescape. Pro Tip: Have a few of our previously mentioned organic elements on-hand to play around with layering them on your table while using this Round Enameled Tray as a centerpiece. Whatever you lay on the table will help tie in some warmth and is a great way to achieve a nontraditional yet seasonally appropriate table. When setting a table, it's important to mix in pieces of varying heights, and even bring in multiple patterns, to give everything a dynamic feel. We included a roundup of items in stores and, we've included a free download for you with a checklist of everything a host should have when planning a get together. Happy entertaining!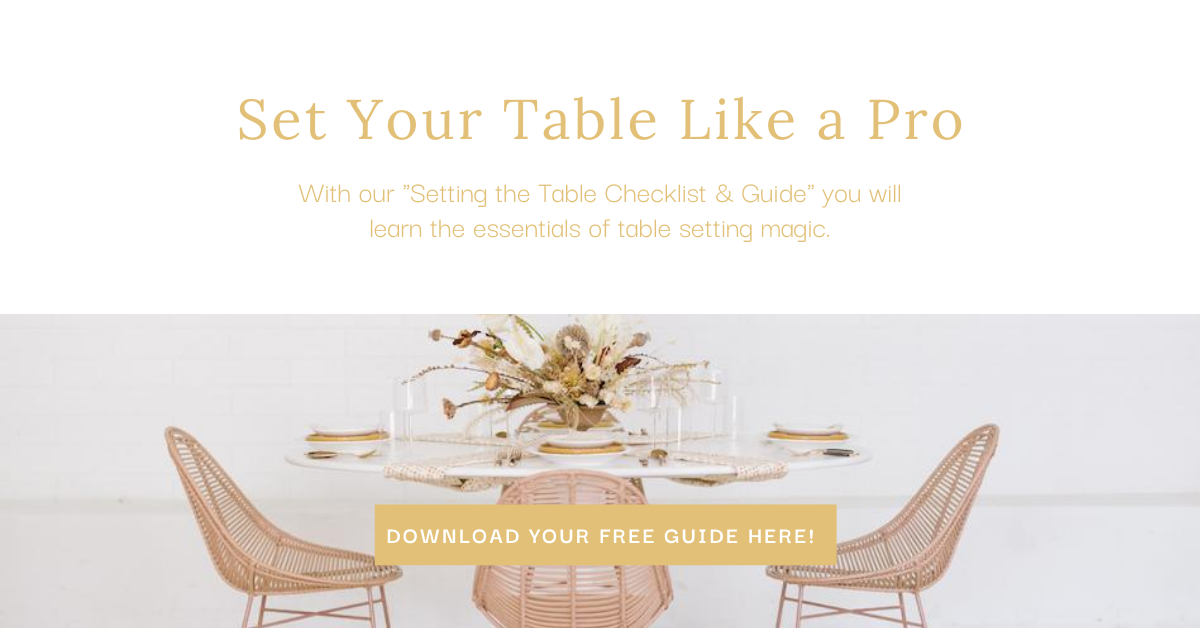 1. Project 62 Placemat // 2. Gold Metallic Taper Candleholders // 3. French Check Napkin Set // 4. Bleeker Bar Martini Pitcher // 5. Organic Shaped Dinner Plates // 6. Iron Mirror Silverware Set // 7.  Smoke Grey Wine Glasses  // 8. Pryce Coup Glass // 9. Amber Double Old-Fashioned Glass // 10. Marble Coasters // 11. Earthenware Vase // 12. Round Enameled Tray.
Photo Credits:
Image Via Pinterest // Lorely Meza // Joelle Elizabeth Photography // Anthropologie // Earthenware Vase // Antti Kalevi // Homey Oh My // Image Via Pinterest // Etsy // Real Simple // Hi Miss Puff //Image Via Pinterest // They All Hate Us // Image Via Pinterest // Besotted Blog // Shades Of Blue Interiors // Wedding Sparrow // Think Make Share // Anthropologie // Hart Floral // Drop Cap Design // Once Wed //Image Via Pinterest
SaveSave
SaveSave
SaveSave
SaveSaveSaveSaveSaveSave
SaveSave
SaveSave
SaveSave
SaveSave
SaveSave
SaveSave
SaveSave
SaveSaveSaveSaveSaveSaveSaveSave
SaveSave
SaveSave
SaveSaveSaveSave
SaveSave
SaveSave
SaveSave
SaveSave
SaveSave
SaveSave