05/09/2017
Top 5 Wedding Gift Registry Items
Hey engaged couples, are you utterly baffled about wedding gift registries? I get so many questions from my clients on this topic, from how to put one together to what they should choose, that I thought I'd break it down for you. Today, I'm sharing just one part of the process: what to choose for your registry. We chose  some of this season's hottest tabletop pieces to add to your own wedding gift registry, and we styled them up with the help of Rebelle Fleurs and Krista Mason Photography. Read on for all of the goods and don't miss our complete Registry Resource Guide below!
Where to look
What's trending in gift registries now? Let's start with where to look. Registering from only one site is limiting and even passe. Mix it up! With universal cross-company registries like Zola (the choice for my own registry), you can compile lists from numerous stores into one registry, ensuring you get ALL of the things you want and making life easy on you and your gifting guests.
What to Choose
Many of today's couples are not interested in throwing formal dinner parties requiring fine china. More and more, I see my clients opting for a high quality everyday dish set instead. Heath Ceramics seems to be the overwhelming favorite and for good reason. They produce amazing base foundation pieces, the quality is exquisite, the pieces are made locally (hey-o, San Fran) and the color and style options are endless. We love these two options in Aqua and  Peridot Linen. And you can add to their collection over time with serving bowls, platters, tea pots, etc.
We basically live for adding a pop of color to any table spread and these West Elm salad plates really deliver in that department. This could pair with so many base color dinner plates from white to cream to grey.
Amp up a traditional place setting with a sophisticated metallic. This modern design from Amazon is not only sleek and polished, but also affordable!
Maybe we're biased, but is there any color better than pink? For the couple who are not afraid to add a little color and a lot of fun to their sophisticated table spread, this gold-rimmed pink stemware from Anthropologie should be on your registry, without question.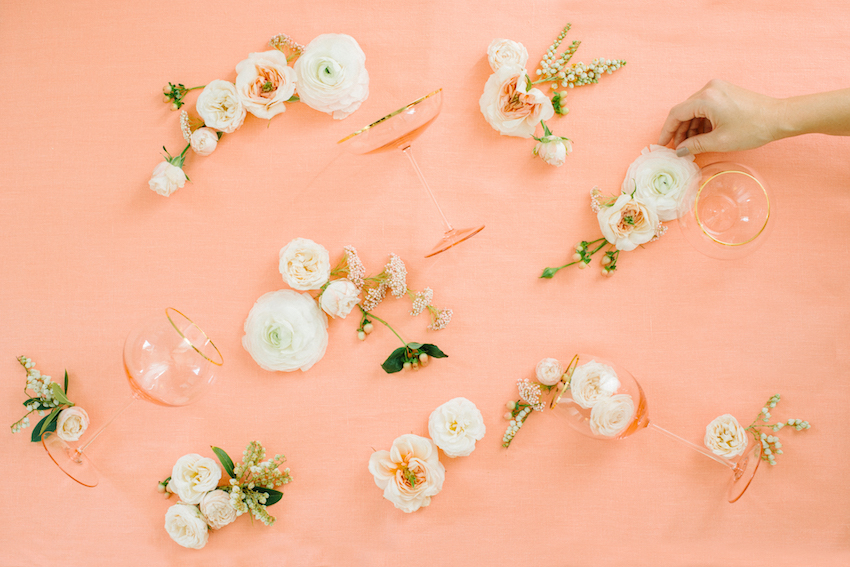 Don't forget about the accoutrement! These marble and wooden bowls from Target are perfect for all kinds of little nibbles from nuts to olives to salt and pepper. One can never have too many tiny bowls to use for last-minute entertaining displays.
For a bit of extra help in the registry department, we've compiled an in-depth resource guide with tons of registry guidance. Download it here!
Best of luck building your own registry!
Team Credits:
Concept, Design & Styling: RO & Co. Events // Floral Design: Rebelle Fleurs // Photography: Krista Mason Photography // Linens: La Tavola Linen
Save
Save
Save
Save
Save
Save
Save
Save
Save
Save
Save
Save
Save
Save
Save
Sa
Save